who are creative companions?
come join us
'me on her'
i remember the evening we first met so very clearly. august 2010. moscow. surrounded by plumes of smoke coming from the peat bog fires sweeping across russia, we instantly wanted to be each other as we later discovered. she was everything i longed to be. charismatic and beauteous. sassy and intellectual. soft and hard. she had that magnetic aura that left you craving more. i left moscow later that year. she moved to paris then back to moscow. we sporadically kept in touch. but always felt connected. we are now both at the recovery stage of our new old selves. in different countries. through different circumstances. but always connected. i hope you enjoy meeting her.
'in her own words'
today i'm not feeling that great. which is a blow to the system because i've been doing so well lately, i've been so balanced and so still. i got used to the calmness (not to confuse with numbness).

who am I? i'm anna. i'm a 33-year-old journalist and artist based in moscow, i've been blessed with a fantastic journey of a decade-long career as a tv host, an opportunity to live abroad and learn foreign culture and languages. i am also lucky to call myself a mother to an incredibly charismatic two-year-old.

in addition to that i have failed miserably at maintaining a single long-lasting relationship since age 20, i'm twice-divorced and i have been struggling in therapy for years. that said, these past two years have been good! i've learnt a lot about myself and the world we all live in. enough, to finally stop being so self-absorbed. i know everyone has their own reasons for personal growth, there is often a lot of sadness and pain involved. i had to start from a point of complete numbness and learn to feel again from scratch. it was horrible at first, but then life blew up - like a cheesy movie, everything went from b/w to colour.
in 2016 i decided to award myself with something that has always been a dream of mine, to study fine arts properly and i enrolled on a course in the stroganov academy in moscow, one of the country's best schools. painting and drawing five days a week worked wonders: better than yoga, better than meditation. it cleared my head from daily toxic thoughts, taught me to trust myself again, and most importantly - allowed me to live in the process. brought up to be goal-oriented, i am now a highly functioning professional: i don't miss deadlines, i work fast, i learn fast, i'm good. i know it.
but what happens when a goal-oriented person enters the delicate field of relationships? you got it. twice-divorced (mind you, marriage was my goal, not divorce). re-wiring oneself as an adult to 'think like this, not like that' is a task so difficult, so painful, that i've abandoned therapy several times and just went on with life as it were. until one day when suicidal thoughts once again started their infernal dance in my overworked mind, i realised that these emotional swings were too dangerous, because there was a child involved. i had to make myself less self-absorbed, less narcissistic.
and it worked! i won't bore you with the details, it took a lot of time and effort and i swear i wanted "out" on many occasions, but it was all worth it: i discovered so much love within, so much to give to others. a state of selflessness, a completely different approach to relationships and forming bonds with friends and men. it could be best described as a surprised 'ah… so I can live like this now? this is nice. why didn't we do this earlier?' it was such a relief to just stop being inside my head all the time.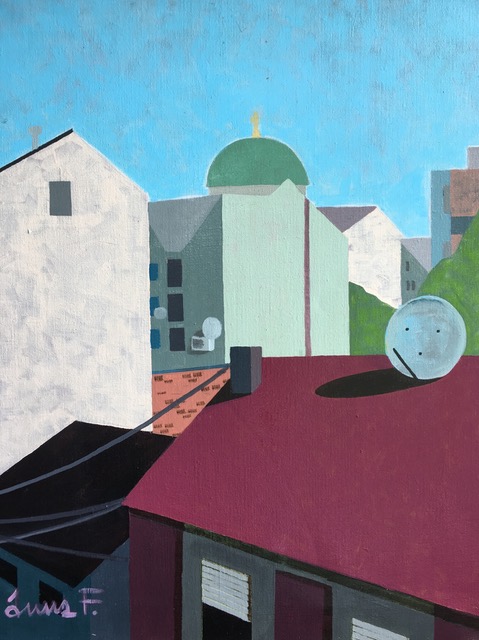 this is all a process, i don't really care how it ends anymore - there are better days and worse days (like today), this new approach to life is creeping into my work ethic as well: where of course result is still king, but the process is no less important and should bring joy (it does! thank you, colleagues!) - so i'm much less stressed, than i used to be before.

regarding relationships, i'm learning to be that dependable, emotionally stable person who allows the partner to grow, creating a mutually beneficial environment of joy and stability. not an easy task for someone who's previous relationship tool-kit consisted of manipulating, gaslighting, ignoring and finally abandoning, but hey…if i enjoyed easy, i'd take an evening wine-and-paint class, not enrol into one of the toughest art schools out there.

writing this made me feel better. if you're having a low day/week/year - reach out on instagram (@artistanna.f) - i love a good old social media hug. we all deserve to enjoy the moment and this, whatever it is, this too shall pass.
'on three things that are part of her everyday'
my art supplies are my favourite things: they are my tools, my connection with the now, my means of expressing the love i channel
my rings, most of them family jewels, are my signature thing: i always wear them, they balance out my energy field and i love them
my yoga mat - this baby has pulled me through my toughest days. one love
'on how she lets herself know she is loved by her'
whenever i don't feel well, i first try to separate apples from oranges and assess whether (and how much) i am physically tired. often i confuse feeling tired and feeling upset - as silly as it sounds, for me years of suppressing my feelings have mutated into this.
in any case i nurture my body and soul alike: i skip any demanding physical activity, i make sure i have nutritious meals throughout the day and sometimes i pamper myself with a bath or a face mask. i have a two-year-old, i'm a shower girl normally, if you know what i mean. i read classic russian literature a lot. dostoevsky's karamazov brothers was there before eckhart tolle, just sayin'.
then there are days when i hug the pillow, lie face to the wall and cry. i just let it happen now. i don't fight the tears, i don't numb my pain with tv, alcohol or drugs. i find that a gentle 'oh, I'm sad today. this is what feeling lonely is like' helps me get over my tears faster than denial and hiding behind constant distracting action.
'on how hearing a song she listened to when she was thirteen makes her feel now'
i just listened to 'truly madly deeply' - a song i was crazy about aged 13 and i felt like i haven't changed, my dreams haven't changed. i definitely have more experience now: back then i didn't recognize paris in the video, for example. i didn't know it. now i do. but deep inside i'm still that 13-year-old girl screaming to be loved and love back. so the only difference is that now i can say: 'oh this is paris'. how odd.
thank you so very much for joining us